The Amazigh,  more commonly known as Berbers, have a large variety of traditional foods each with it's own distinct identity depending on it's region of origin of the desert.  Their simple meals of grains,  meats and vegetables  are enhanced by a variety of spices and typically served with s flat bread,  At one time, all were cooked over open fires in the nomadic desert tent camps and consisted of what ever was available for the meal.  Sweets are also popular among the desert Berbers.
 Couscous
 Couscous is a very common and popular dish served with vegetables (carrots, potatoes, turnips, etc.) cooked in a spicy or mild broth or stew, and some meat (generally, chicken, lamb or mutton).  It is frequently served on Fridays which in the Islamic holy day.
 Seffa
This delightful sweet dish is made with  steamed couscous grain sprinkled with almonds, cinnamon and sugar.  It is served with milk perfumed with orange flower water and perhaps a garnish of dates .
 Tagine
Tagine is also a very popular meal prepared frequently.  This  savory stew is made with meat, poultry or fish together with vegetables or fruit served with bread.  Spices, nuts, and dried fruits may also be used.  Common spices include ginger, cumin, turmeric, cinnamon, and saffron.  It is cooked in a dish by the same name.
 Kefta
Petite meatballs of beef or lamb minced with garlic, fresh coriander, parsley, cinnamon and ground coriander are cooked in a tomato and onion sauce.  Just before the dish is ready, eggs are cracked into a zesty homemade tomato sauce  It may be prepared in a tagine or flat pan.
 B'ssara
This dish is simple, has very few ingredients but with a lot of flavor and really very healthy.  It is a rich soup of dried broad beans  traditionally served during Ramadan to break the fast. Top with a swirl of olive oil, a sprinkling of cumin or paprika.  Served with bread fresh from the oven.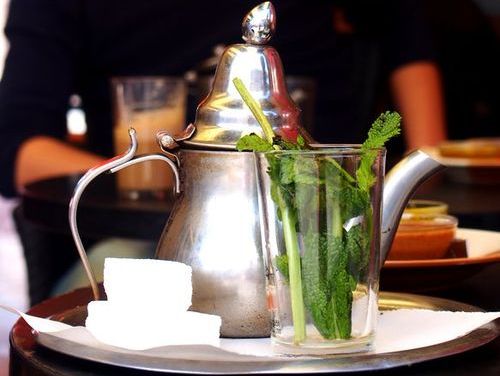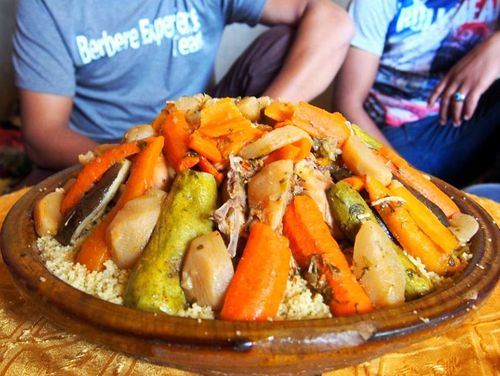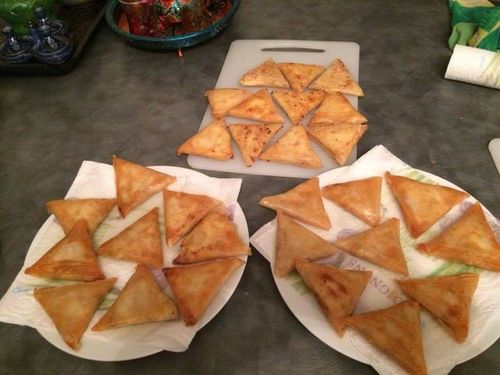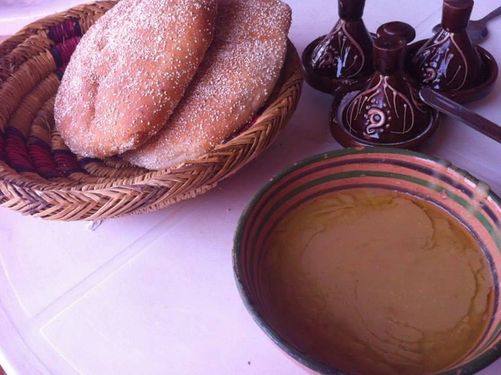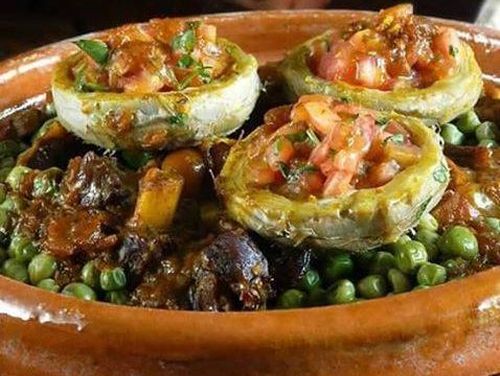 Harira
Another  soup rich with tomatoes, lentils, chickpeas and lamb garnished with a squeeze of lemon juice and some chopped coriander.  It is frequently served with a sticky sweet pretzel called chebakia.
 B'stilla
This spiced poultry pie of pigeon or chicken enriched with scrambled eggs and decorated with ground almonds, sugar, and cinnamon is typically served at weddings and other festive occasions. It is spiced with saffron, cinnamon and fresh coriander. It is dusted with icing sugar and cinnamon.
 Ghzal kaab el
Also known as gazelle's horns, is a pastry stuffed with almond paste, orange flower water and cinnamon, molded in to a crescent shape and topped with sugar.
 Halwa chebakia
This pretzel dough, shaped like a flower,  is deep-fried, soaked in honey and sprinkled with sesame seeds.  It is frequently seen at weddings and during Ramadan.
 Mint tea
Mint tea is  known as 'Moroccan whisky'. It is the drink of choice in Morocco.  It is  heavily sweetened with sugar chipped off a sugar cone.  Gunpowder tea is steeped with a few sprigs of spearmint fed into the teapot.
 Berber Pizza
This delicious simple meal is flat bread stuffed with carrots, mint and lamb or beef and a variety of spices.  The best can be found in Merzouga.