Merzouga is a village in the Sahara Desert near the golden dunes of the Erg Chebbi. This small village, home of indigenous Berbers, welcomes you with many things to do and activities. Whether you are adventurous or more relaxed, there is much to peek your interests.
 QUADS
There are quads with professional guides who can take you for a ride in the dunes from one hour or the entire day. You will be able to visit a nomad family and share their hospitality.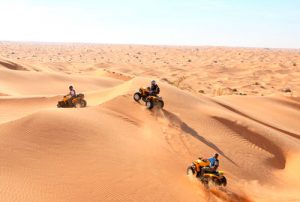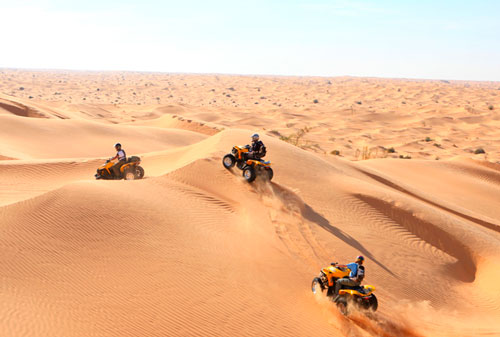 HIKING IN THE DUNES
You can spend time climbing the dunes and even ski or snow board down them for a great time. If you are there for a sunrise or sunset, your experience will be extra spectacular. This can also be arranged from one hour to the entire day.
LAKE AND OASIS
Merzouga has a fabulous lake, Dayet Sriji and at the right time of year is filled with flamingos and other fowl. You can visit the oasis that supplies irrigation for the growing of crops in Merzouga. The lake and oasis can be reached by bicycle, 4X4 or car. This is especially nice trip for bird watchers but great for everyone.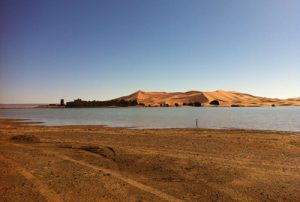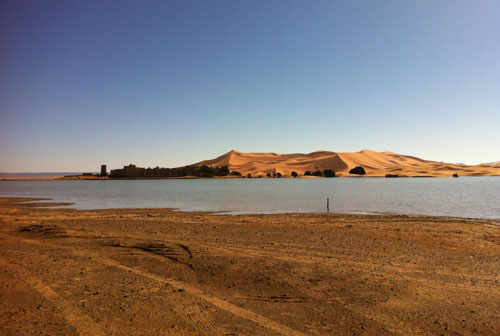 SAND BATH
Merzouga is famous in Morocco for its sand baths in the summer. For suffers of rheumatism and general body aches, you are buried in the sand except for your head by professionals in this technique and the warm sand soothes and relaxes your body. It is an amazing relaxing experience that few people are aware happens in Merzouga.
 YOGA
Do you practice yoga? This is also available in the dunes which in itself is a very spiritual experience. Add the yoga and you will have a fabulous desert experience.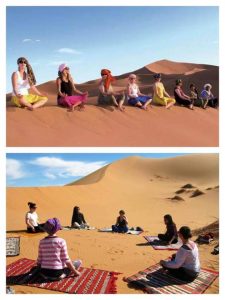 MASSAGE
Can you image how relaxing a massage can be in the beautiful desert around Merzouga by a professional masseuse?
 GNAWA MUSIC
A visit to Khamlia will give you a memorable experience of traditional Gwana music. You will sip mint tea as you enjoy the music and at the end can practice on the instruments. This is a stop you can make with your or reach by bicycle or car.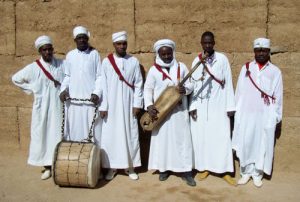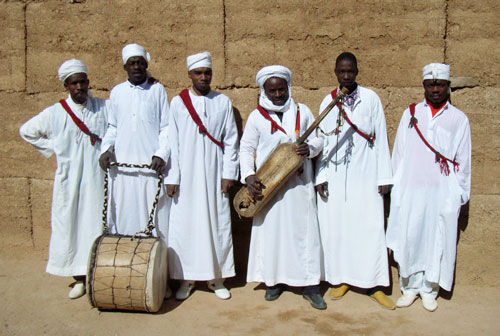 COOKING CLASS
Experience the art of Moroccan cuisine and learn to cook tagine, couscous or Berber pizza. Then sit down with the Berber host family to enjoy your meal with traditional mint tea.
 MOTO SPORT/RALLY
The Paris Dakar passed through Merzouga and participants return frequently to drive the dunes. This experience can also be done with a 4X4 as a wonderful sport experience.
 CAMEL TREKKING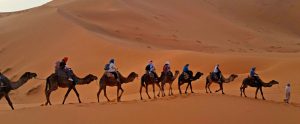 We can arrange an overnight camel trek into the desert in a nomad camp. You will be treated to an amazing sunset, star filled nights and spectacular sunrise. you will be served a typical Berber meal and music.