Day 1: Arrive at Marrakech
We will meet your arriving flight in Marrakech and take you to your hotel in the medina where you will spend three nights. You can explore the Jemaa el Fna in the evening for delightful food and entertainment.
Check hotel  > RIAD MARANA
Day 2: Marrakech – Tizi-N-Tichka – Ait Ben Haddou – Ouarzazate
Exploration of Marrakech begins with a visit the historical and cultural site which include the Bahia Palace, Saadian Tombs, the Ben Youssef Koranic school and the Jemaa el Fna square. Lunch will be in a local restaurant with typical Moroccan food. In the afternoon, we will visit he Koutoubia Tower.and the Majorelle Gardens. We will take a short tour of new Marrakech (Gueliz) before returning you to your hotel.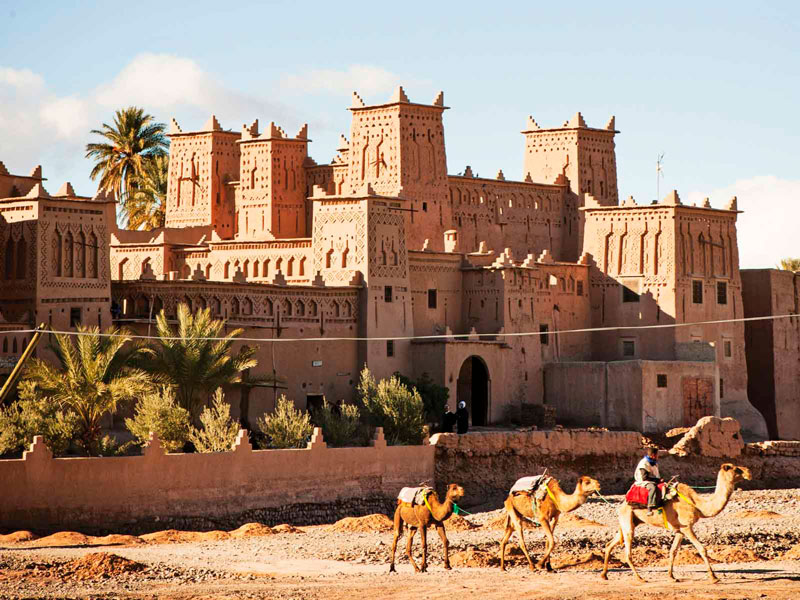 Day 3: Day trip to Ourika Valley and the Berber trail
We will have a grand day trip to the Ourika Valley traversing the Tahanaout and Mulay Brahim valleys to the Berber village of Asni. Here we will experience Berber culture with a visit to a Berber family.. The Toubkal and Oukaimeden mountains beg you to grab your camera. The lush Ourika valley invites us to take a two hour walk to the waterfalls enjoying the lush landscape as we pass through the village of Setti Fatma.
Day 4: Marrakech – Ijoukak – Tizin'Test Pass – Taroudant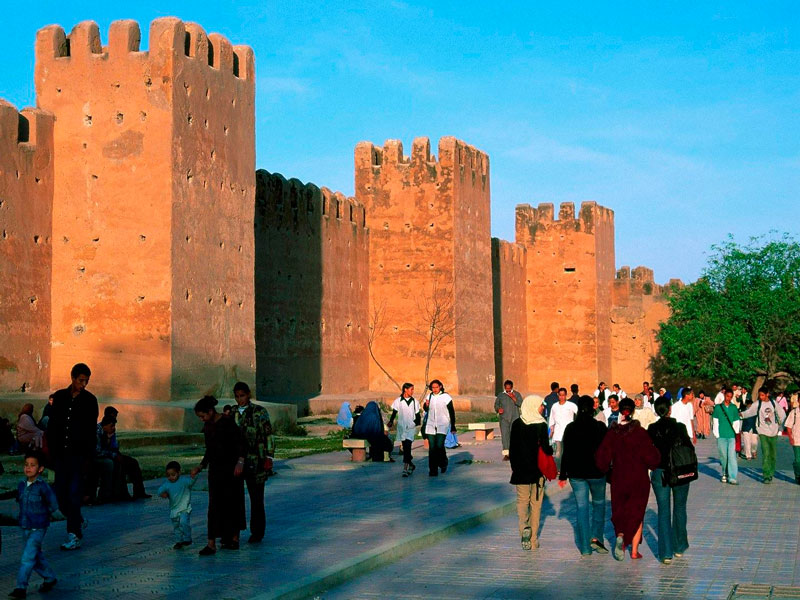 We leave Marrakech and travel to Taroudant by way of the Tizi N Tess pass of the High Atlas Mountains, home of many Berber tribes. Tin-Mal mosque, a 12th century UNESCO site, is a stop along the way. We continue through the mountains and the Argan groves until we arrive at Taroudant where you stay in your riad for two nights.
Check hotel  > RIAD EL ASSIS
Day 5: Exploring Taroudant
Will be spent exploring Taroudant as a purely cultural experience, visiting the souks, experiencing everyday life of the locals as we wander the alleys of little Marrakech. We will visit the Berber jewelry market where you may be tempted to try your negotiating skills for that piece of jewelry you just cannot do without. We encourage you to wander for the day as this is a relaxing way to experience the true Berber culture. There is an optional bike tour available.
Check hotel  > RIAD EL ASSIS
Day 6: Taroudant – Argan National Park – Tafraout
We depart Taroudant by way of Ait Baba to Tafraout all the while seeing goats in the Argan trees. We will be certain to stop for numerous photo opportunities along the way to Tafraout where you will spend two nights.
Check hotel  > CHEZ AMALIYA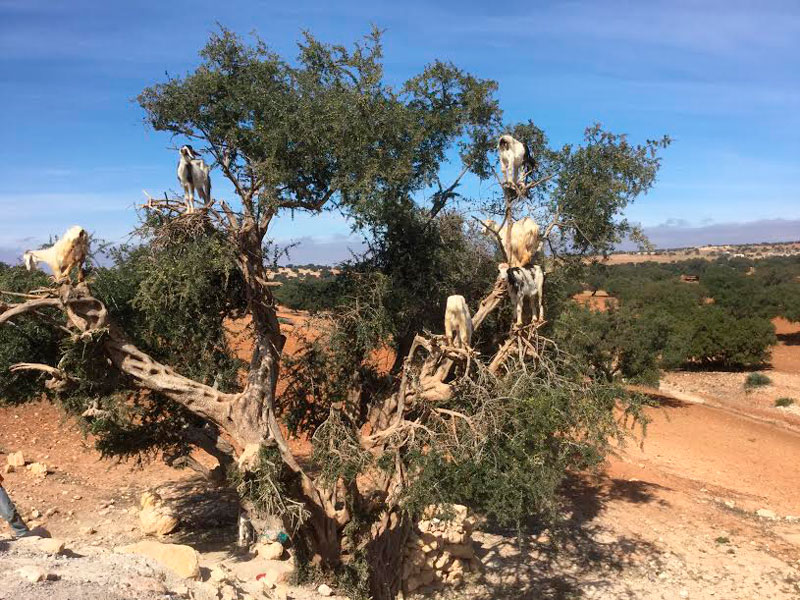 Day 7: Exploring Tafraout
Tafraout, a small Berber village where you will see traditional dress in the souks and in the fields as the residents go about their daily life. You will see the painted rocks in the amazing Amien valley. You are free to wander about this lovely village for an unforgettable experience as you interact with the Berbers who welcome you.
Check hotel  > CHEZ AMALIYA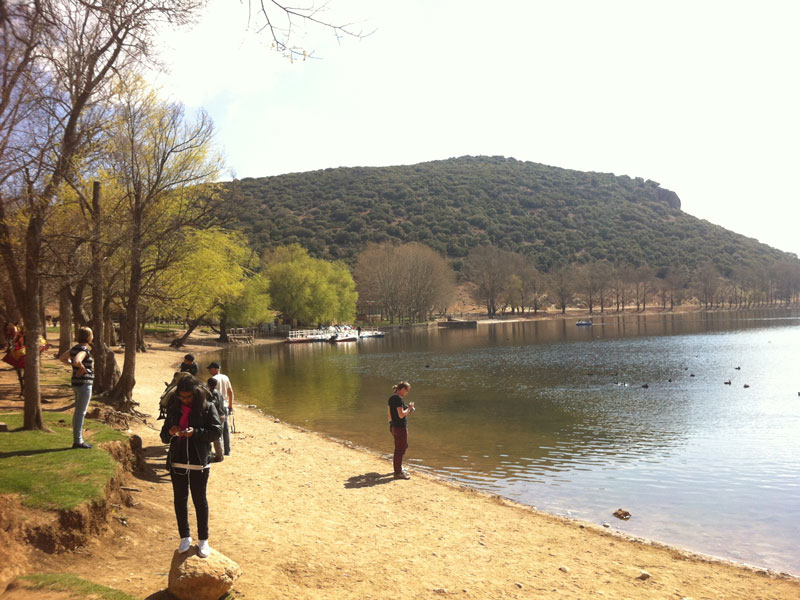 We leave Tafraout to travel to Tata by way of Paradise valley. We will cross the Anti-Atlas home of the Ait Abdellah tribe. Also on the way are tent dwelling nomads and their herds in this very remote area with amazing landscapes. We will arrive in the afternoon leaving you ample time to explore before retiring to your riad.
Check hotel  > KASBAH TISSINT
Day 9: Tata – Foum Zguid – Chegaga desert
We leave for the Chegaga Desert traveling through the black landscape so popular in films. Again, you will see nomads and caravans along the way. After crossing the dry lake of Irikki, we arrive in Chegaga and we take a camel trek to your desert camp, have dinner and see a spectacular sunset before retiring in your nomad tent.
Day 10: Chegaga – Mhamid – Tamegroute – Zagora
You will be awakened for the sunrise before we journey to Zagora with a stop in Tamegroute where you will walk in the village and visit the Islamic library which serves as a school for Islamic education. We will also visit a pottery works where items are made using traditional methods. We will continue to Zagora where we will spend the night.
Check hotel  > RIAD LAMANE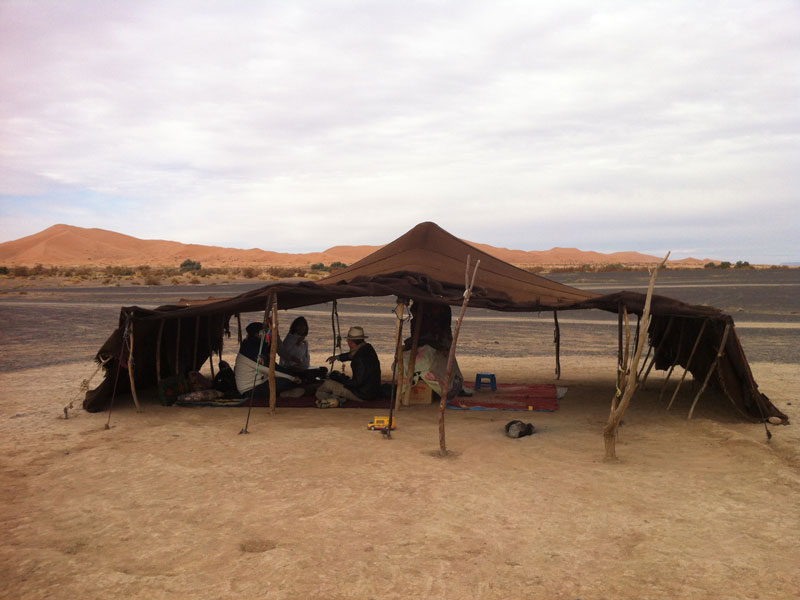 Day 11: Zagora – Draa Valley – Ouarzazat – Marrakech
Returning to Marrakech via the Draa Valley and the High Atlas mountains. We will use the Ait Saoun pass to Ait Ben Haddou Kasbah, the largest in Morocco and a UNESCO site. We continue by way of the Tizi N Tichka pass, the highest in Morocco until we reach Marrakech where you will spend the night and have an evening to enjoy the square Jemaa el Fna one last time.
Check hotel  > RIAD MARANA
Will be our last together after this incredible Berber tour. We will pick you up at your riad for transport to the airport.